All In One Profits (AIOP) Benefits
All In One Profits is, like the name implies, a program that has everything you need to start your online success story! By combining the advertising you get with FAFY and the awesome tools at AIOP you'll be miles ahead of everyone else online who are trying to succeed without them.

When you decide to become serious about your success online, you are going to need some tools to help you reach your goals. Just like a business in the offline world needs a building for customers to visit them, you will need a website. AIOP provides you with a hosting account so you can have your own website with your content online fast. You will discover that having your own website, that you control, opens up avenues of success and income potential that are not possible without one. Getting your first site online and learning the almost unlimited variety of pages you can create and earn from is the first step to your success.
Do you get mail from places you do business with? Of course you do! Building a list of customers and being able to keep in contact with them is another vital piece to your success. That is why AIOP provides members with a features rich auto-responder and lead capture system. With this easy to use auto responder, you will be able to start building a list of customers that you can contact whenever you want. AIOP also provides you with an almost infinite amount of forms that you can create with a few clicks so you can add them to your new website and start building a list of people that want to hear from you. Every successful marketer knows that having an email list is vital to making an income online.
AIOP provides you with more than just a website and autoresponder. In fact, you'll be shocked at all the benefits you get as a member. Here is a list of ones that you will want to start using as soon as you join.
Hosting Package
Autoresponder
Tracking service that will show you what traffic sources are delivering the traffic to your site(s)
Rotator service that lets you promote one URL that rotates all of your favorite sites
Advertising - You'll be able to add text and banner ads that are shown throughout the AIOP site
Educational Downloads - Learn how to make more money and design eye catching websites!


You haven't even heard the most exciting part about AIOP!
The best part is that AIOP also gives you the opportunity to earn an unlimited, residual income! For each member in your payline you'll earn $10 a month. That doesn't sound like much at first, but over time and by adding just a few members to your payline a week you could be earning an income that will make your family and friends envious of you! Oh, you'll also get members passed up to you earning you even more money. Let me explain...When you join our team today, you'll be joining under a team member. You will have a sponsor and an upline. These could be the same person or 2 different people because every other person you or someone on the team sponsors gets passed up to their sponsor. The image below gives a better representation of this: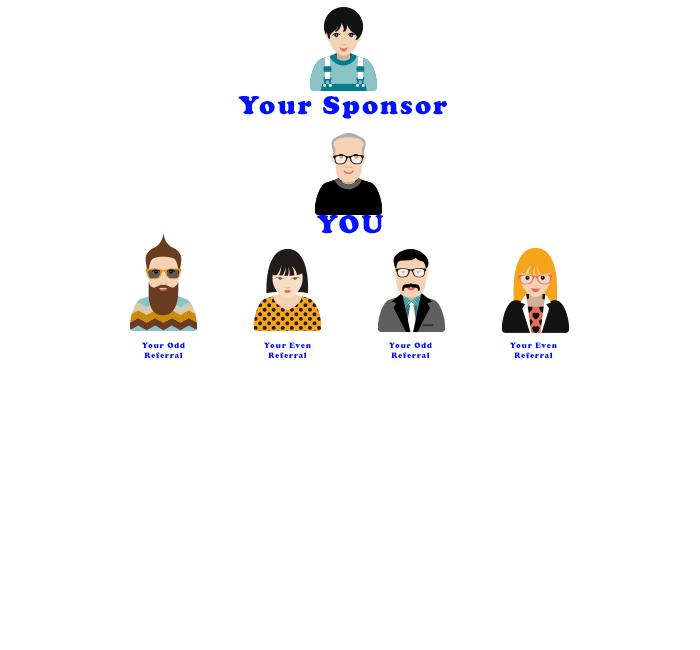 I am confident if you are still reading this that you are as excited as I was and still am about AIOP. You are just a few minutes away from accessing all the things you learned about on this page. You can click the button below to join our team now. To find out what other benefits you'll get that are exclusive to the FAFY AIOP team build, click here



© 2023. FAFY AIOP TEAM. All rights reserved worldwide.